Having the best CPAP pillows available is critical to providing you with optimal support while using your CPAP machine. Here are five CPAP pillows that will offer the comfort you are looking for.
Contour Products CPAPMax Pillow 2.0
The foam layer offers the user support while the memory foam layer is designed for comfort. In addition, the charcoal infused high-resiliency foam layer is going to neutralize odor. This will ensure that the pillow remains fresh for a longer life.
This breathable design allows the cool air to flow generously through the pillow. No matter how you enjoy sleeping, this pillow is fully adjustable from 2.25 – 5.25 inches so it can be customized to each user's preference. The hose tether allows you to move freely through the night without restricting air flow. This enables you to enjoy a more peaceful night's sleep for everyone.
EnduriMed Large Memory Foam CPAP Pillow
This memory foam pillow was designed for CPAP machine users and is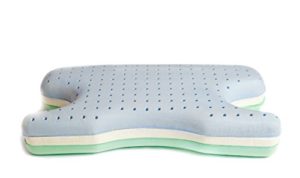 created with polyurethane, cotton and polyester. The material is dust mite resistant, allergen resistant and doesn't have a strange chemical smell like some other brands. The high-quality of this brand creates a comfortable contour pillow design that allows the face and head to gently rest comfortably. It doesn't matter if you are a side-sleeper, back sleeper or enjoy laying on your stomach, this pillow will offer the support that is needed.
This is a newly redesigned 2nd generation pillow that has been improved from the feedback of regular users. There are now 2 levels of thickness and comfort. This means no matter how big or small you are, there will be a good night's sleep waiting for you.
You can wake up refreshed, energized and ready to face the day. One size pillow will fit all users and it comes ready to use. You won't need to re-stuff or re-fill your pillows to make them more comfortable and you can forget about those unsightly marks or bruises on your face in the morning.
CPAP Memory Foam Pillow By GoodSleep
This ergonomically designed memory foam pillow will prevent your CPAP,
BiPAP or APAP mask and tubing from kinking and twisting. This is a common complaint when it comes to wearing a CPAP machine. The kinking of the hose is often responsible for interfering with breathing function. Thankfully, it doesn't matter what position you sleep in, this pillow helps you avoid the over-tightening of the mask which causes facial pressures, bruising and sores.
The one size fits all pillow can be placed inside any standard-size pillowcase or used with the provided cover and is compatible with all CPAP, BiPAP and APAP machines. The high-quality memory foam is also dust mite and allergen-resistant. It can also be used for many other treatments including post-thoracic or orthodontic surgeries. Soft enough to provide the user with comfort, yet firm enough to promote proper neck and spine alignment, this pillow enhances sleep quality.
The pillow won't need to be restuffed or refilled and you'll be able to breathe easily with no restrictions or loss of air.
DeluxeComfort Pillow
Whether you use a CPAP, BiPAP or APAP machine, this pillow will relieve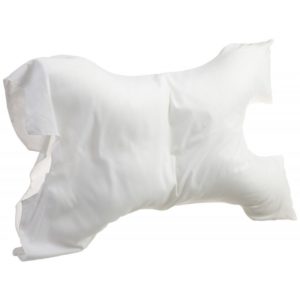 the pressure and discomfort that is commonly felt. It is also ideal for using with post-thoracic, plastic or orthodontic surgery patients. This pillow is soft enough for complete comfort but also offers firm support to allow for correct neck alignment. Use this one-size fits all pillow with any standard pillow case or with the custom cover that is included.
The high-quality fiber fill will create a contour pillow design which allows the CPAP, BiPAP or APAP mask and tubing to permit air flow to move freely from the machine to the user. It doesn't matter if you sleep on your side, stomach or back, you should not have any restriction in airflow with the use of this pillow.
In addition, you won't have to over-tighten your mask any longer in order to compensate for the pillow's push against the face. This is a common cause of air leaks, facial pressure, sores, bruising and overall mask discomfort. The pillow is ready to use when it arrives at the door. You will not need to stuff or refill the pillow to keep the comfort at a maximum level.
Both the pillow and the cover are hypoallergenic, dust mite resistant and microbe resistant. The asymmetrical cut-outs combined with the adjustable height allow for 16 different pillow and head configurations to create a customized feel.
EnduriMed Pillow For CPAP, BiPAP, APAP Machine Users
This pillow is completely compliant to be used with CPAP machines. It can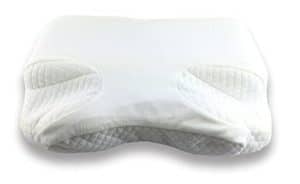 also be used with a BiPAP or APAP machine. In addition, you will find it to be beneficial for patients of post-thoracic or orthodontic surgery because it allows for complete support and comfort. The pillow is soft enough to provide the user with comfort, but still firm enough to provide superior neck and spine alignment. One size fits all users. You can also place a standard pillow case over the top for additional protection.
The high-quality memory foam contour pillow allows for your mask and tubing to remain kink free. This enables the air to flow freely from the machine. This means you can easily sleep on your side, back or stomach and experience no issues. You won't have to over-tighten the mask as you did with other pillows to compensate for the way your pillow pushes on it. When you are forced to over-tighten a mask, you can experience air leaks. This can make breathing harder than necessary. By using this pillow instead, you effectively avoid facial pressure, bruising, sores and mask discomfort simply because of its supportive nature.
What are the best CPAP pillows?
When choosing a pillow to use with your CPAP machine, comfort is going to be key. You need a supportive pillow that allows for flexibility of movement no matter what position you sleep in. Making the right decision will ensure that your air flow doesn't get restricted and your face remains free of any sores.